| | |
| --- | --- |
| | FLAC MP3 Converter |
FLAC MP3 Converter converts FLAC to MP3 and MP3 to FLAC. It's an ALL-IN-ONE audio converter that converts more than 90 audio and video files to popular audio formats such as AAC, AIFF, ALAC, CAF, FLAC, M4A, M4B, MP2, MP3, OGG, WAV, and WMA. The software is full compatible with Vista and Windows 7/8.
FLAC MP3 Converter offers many useful features. For example, automatically normalizes volume of FLAC, MP3, and other files so that all output files have the same volume just like FLACGain; skips the first N milliseconds of FLAC and MP3 files when converting; only converts N milliseconds of FLAC and MP3 files; joins multiple files to one FLAC/MP3/M4A/M4B/AAC/OGG/WMA file.
You can change encoding parameters of target files such as sample frequency, bit rate, channels, and quality. So it's possible to convert a large-size file to a smaller one. And, the software adds or keeps ID3 tag when converting. The software supports to change sound volume as well.
The software also supports batch conversion. You can convert or resample a batch of files at a time.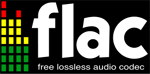 Free Lossless Audio Codec (FLAC) is a file format for lossless audio data compression. Being lossless, FLAC does not remove information from the audio stream, as lossy compression formats such as MP3, AAC, and Vorbis do. FLAC's primary author is Josh Coalson. FLAC reduces bandwidth and storage requirements without sacrificing the integrity of the audio source. A digital audio recording (such as a CD track) encoded to FLAC can be decompressed into an identical copy of the audio data. Audio sources encoded to FLAC are typically reduced in size 40 to 50 percent (46% according to their own comparison). FLAC is suitable for everyday audio playback and archival, with support for tagging, cover art and fast seeking. FLAC's free and open source royalty-free nature makes it well-supported by many software applications, but FLAC playback support in portable audio devices and dedicated audio systems is limited at this time.

Free Download FLAC MP3 Converter
FLAC MP3 Converter is 100% clean and safe to install. It's certified by major download sites.


Convert FLAC to MP3, MP3 to FLAC Just in 2 Easy Steps
Step #1: Choose FLAC/MP3 files
Click button "Add Files" to choose FLAC/MP3 files.

Step #2: Convert to MP3/FLAC
Choose "to MP3" and then click Convert to convert files to MP3 format.
Choose "to FLAC" and then click Convert to convert files to FLAC format.
Top 8 Benefits of FLAC MP3 Converter:
Convert FLAC to MP3

FLAC MP3 Converter converts your FLAC files into MP3 format for reducing file size, saving disk space and playing them in your MP3 player and iPod.

Convert FLAC to WAV

If you want to burn your FLAC onto a CD and play in your CD player you should convert them into WAV format first.

Change sound volume

If volume of recorded FLAC files is too low or high, you can use FLAC MP3 Converter to amplify or reduce the sound volume.

ID3 tag

FLAC MP3 Converter can add ID3 tag such as title, artist, album, year, genre, and comment to target file when converting files to MP3/OGG/MP4/M4A/M4B. The software also supports to keep ID3 tag including ID3v1 and ID3v2 of original files when converting.

Batch conversion

FLAC MP3 Converter supports batch conversion. You can add bulk of files or a folder, or drag and drop files and folders onto main window of the converter; it will search all supported files and add them to conversion list. When you click Convert, all files will be converted in batch.

Split left and right channels into two files

Many karaoke songs got the music on one channel and music + voice on the other channel, and this would be a way to create files with only music on both channels and also to create files with music + voice on both channels. You can get rid of a channel of a stereo file by the program.

Output destination files to another folder or driver and keep original directory tree

If you have bulk of files within different folders, and you want to convert them to another format and keep original directory tree, the FLAC MP3 Converter is just the software you need.

Easy to use. No experience of FLAC and MP3 necessary

FLAC MP3 Converter is very easy-to-use without knowledge of FLAC and MP3 files.
File Formats FLAC MP3 Converter Supported:
| | |
| --- | --- |
| Input File Formats | 3G2, 3GP, 3GP2, 3GPP, 4XM, AAC, AC3, ADTS, ADX, AFC, AIF, AIFC, AIFF, ALAW, AMR, AMV, APE, ASF, AU, AVI, AWB, CAF, CDA, CDATA, CIF, DIF, DIVX, DNXHD, DRC, DTS, DV, DVD, DVR-MS, DXA, EAC3, FLAC, FLC, FLI, FLIC, FLV, FLX, GSM, GXF, H261, H263, H263+, H264, IT, KAR, M1A, M1V, M2A, M2T, M2TS, M2V, M4A, M4B, M4R, M4V, MID, MIDI, MJ2, MJPEG, MJPG, MKA, MKV, MLP, MLV, MMF, MO3, MOD, MOV, MP+, MP1, MP2, MP3, MP4, MPA, MPC, MPE, MPEG, MPG, MPGA, MPP, MPV, MTM, MTS, MTV, MVI, MXF, NSA, NSV, NUT, NUV, OGA, OGG, OGM, OGV, OGX, OMA, PSP, PSX, PVA, QCIF, QCP, QT, RA, RAM, RCV, RGB, RM, RMI, RMVB, ROQ, RPL, S3M, SDP, SHN, SMK, SND, SOL, SOX, SPX, STR, SWF, THD, TS, TTA, UMX, VC1, VFW, VID, VMD, VOB, VOC, VQF, W64, WAV, WAVE64, WM, WMA, WMD, WMV, WV, XA, XM, XVID, XWMV, Y4M, YUV |
| Output File Formats | 3G2 (audio track), 3GP (audio track), AAC, AAC for iPod/iPhone/iPad/iTunes/DSi, AC3, AIFF, AMR, ASF (audio track), AU, AVI (audio track), CAF, DTS, FLAC, FLV (audio track), M4A (MPEG-4 audio), M4B (MPEG-4 audiobook), M4R (iPhone ringtone), MKA, MMF, MOV (audio track), MP2, MP3, MP4 (audio track), MPA, OGG, SWF (audio track), VOC, WAV, WMA, WMV (audio track) |
FLAC MP3 Converter Key Features:
Easy-to-use and fast-to-convert
Support more than 90 audio and video files as input
Convert file to 30 formats
Convert FLAC to MP3
Convert MP3 to FLAC
Trim FLAC files
Split FLAC files
Normalize FLAC, MP3, and other files automatically and output the same volume files
Keep ID3 tag
Change volume
Create output folders according to source files directory tree automatically
Support batch conversion
Support drag and drop

Free Download FLAC MP3 Converter
FLAC MP3 Converter Quick Info:
Version: 3.3 build 1058
Size: 3.94 MB
License: Free to try
Platforms: Windows 8 / 7 / Vista / 2008 / 2003 / XP / 2000 (both 32-bit and 64-bit editions compatible)
FLAC MP3 Converter v3.3 build 1058

Supports compression level for FLAC encoding
Converts FLAC to CAF
Converts FLAC to DTS
Supports Unicode ID3 tag
Fixes bug

FLAC MP3 Converter v3.2 build 969

Adds option that enables user to skip the first N milliseconds of FLAC and MP3 files when converting
Adds option that enables user to only convert N milliseconds of FLAC and MP3 files
Automatically normalizes volume of FLAC and MP3 files so that all output files have the same volume just like FLACGain
Improves user interface
Fixes bug

FLAC MP3 Converter v3.1 build 948

Converts multiple FLAC files to one FLAC/MP3/M4A/M4B/AAC/OGG file
Fixes bug

FLAC MP3 Converter v3.0 build 929

Converts MP3 to FLAC
Adds more output formats
Adds more codecs
Fixes bug

FLAC MP3 Converter v2.8 build 875

Improves conversion kernel
Supports more input file formats
Fixes bug

FLAC MP3 Converter v2.7 build 869

ID3 tag improvement
Supports both MP3 ID3v1 and MP3 ID3v2
Fixes bugs

FLAC MP3 Converter v2.6 build 852

Supports more than 60 files as input
Fixes bugs

FLAC MP3 Converter v2.3 build 829

Supports AMR and AWB files
Fixes bugs

FLAC MP3 Converter v2.2 build 810

Supports AAC, MP4, M4V, M4A, M4B, AC3, and APE files
Fixes bugs

FLAC MP3 Converter v2.0 build 768

Supports WMA, WMV, ASF, CDA, WV, and AIFF files
Fixes bugs